Chance & Community Chest
Older cards are typeset and appear more nearly homemade. The familiar orange and yellow colors are there but some of the older cards have disappeared and some have changed. Two moved from the Chance deck to Community Chest. As on property deeds, early versions of Monopoly used the complete decimal notation of dollars and cents.
Chance
Pay Poor Tax of $12.00
Changed to $15
Parking Fine $15.00
Discarded
Pay School Tax of $150.00
Now Community Chest
You are Assessed for Street Repairs
Now Community Chest
Community Chest
Go Back to Baltic Avenue
Discarded
We're Off the Gold Standard Collect $50.00
Discarded
Pay a $10.00 Fine or Take a "Chance"
Discarded
Pay Your Insurance Premium $50.00
Discarded
Second Prize in a Beauty Contest Collect $11.00
Changed to $10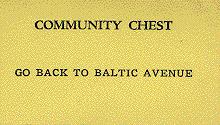 These cards not in the earlier game were added by Parker Brothers to their version copyright 1936.
Chance
Advance Token To Nearest Railroad
Advance Token To Nearest Utility
Pay Each Player $50
Community Chest
XMAS Fund Matures Collect $100
Collect $50 From Every Player