Miniature Stories of the Saints
by Rev. Daniel A. Lord, S.J.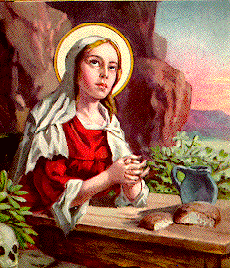 Saint Mary of Egypt who had been a Sinner
When she was a very little girl, Mary of Egypt was a great sinner. Almost everyone heard about her. For she was very beautiful. She led so many people into sin. She was very bad. One day a crowd of people took ship for Jerusalem. The king had just found the Cross on which our Lord was hung. Mary went along because she thought it fun to travel. She did not care about the Cross.
But when they came to Jerusalem, she went with the rest to the church. Inside was the Cross. She tried to enter. She could not. Some unseen force held her as if she were chained. Suddenly, she knew how wicked she was. She turned and saw a picture of Our Lady. "Mary," she cried, "Mary Magdalen saw the Cross. Please let me stand beside that other sinful woman." And she walked into the church. She knew that her sins had nailed Jesus to that Cross.
She fell on her knees, and cried and cried, repenting of all her sins. Then she went out into the desert. For years she lived alone. She prayed. She did penance for her sin. In the end, a holy man found her body on the sands. He buried the sinner who had become a saint. Her Feast is April 9th.
NIHIL OBSTAT ARTHUR J. SCANLAN S.T.D. CENSOR LIBRORUM
IMPRIMATUR FRANCIS J. SPELLMAN, D.D. ARCHBISHOP, NEW YORK