Hang the Bridge Burners
Judah P. Benjamin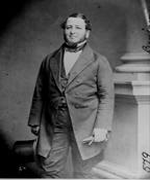 WAR DEPARTMENT, RICHMOND, NOVEMBER 25, 1861.
COLONEL W. B. WOOD: -
SIR: - Your report of the 20th instant is received, and I now proceed to give you the desired instruction in relation to the prisoners of war taken by you among the traitors of East Tennessee.
First. All such as can be identified in having been engaged in bridge-burning are to be tried summarily by drum-head court-martial, and, if found guilty, executed on the spot by hanging. It would be well to leave their bodies hanging in the vicinity of the burned bridges.
Second. All such as have not been so engaged are to be treated as prisoners of war, and sent with an armed guard to Tuscaloosa, Alabama, there to be kept imprisoned at the depot selected by the Government for prisoners of war.
Whenever you can discover that arms are concentrated by these traitors, you will send out detachments, search for and seize the arms. In no case is one of the men known to have been up in arms against the Government to be released on any pledge or oath of allegiance. The time for such measures is past. They are all to be held as prisoners of war, and held in jail to the end of the war. Such as come in voluntarily, take the oath of allegiance, and surrender their arms, are alone to be treated with leniency.
Your vigilant execution of these orders is earnestly urged by the Government.
Your obedient servant,
J. P. BENJAMIN,
Secretary of War.
COLONEL W. B. WOOD, KNOXVILLE, TENN.
Sketches of the Rise, Progress, and Decline of Secession by W. G. Brownlow
George W. Childs, Philadelphia, 1862, pages 269-270.