The O'Leary Family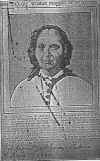 Margaret Masterson O'Leary


Mary Masterson Rogers
Mr. and Mrs. John O'Leary came to Evanston in the early eighteen thirties. They came to Chicago by canal boat and settled on land where Calvary Cemetery is now located. A part of the farm was sold to the Catholic Bishop of Chicago. The largest grave yard at that time was located in Lincoln Park. The purchase price of the 160 acres is said to have been on a basis of 60 cents per acre. The O'Leary farmhouse was near the entrance to Calvary Cemetery. A huge oak tree stood close to the house and it was under this tree that the first Catholic Mass was said. A massive table now in the possession of St. Mary's Church, draped with linen, furnished the altar.
The O'Learys at one time conducted a tavern at the Cemetery address, the building being subsequently moved to 1209 Chicago Avenue. Some years ago I called and inspected a cabin door which Mr. O'Leary had saved from the wreck of the Lady Elgin.
The O'Leary family was a large one, the most colorful member being Ellen O'Leary Lynch. Her last home was at 1604 Jonquil Terrace, Chicago. The parcel of ground upon which the house was built was a part of the original O'Leary farm. Ellen Lynch passed the century mark by one year. On her hundredth birthday August 29, 1938, she lighted 100 candles on her birthday cake. The Chicago Tribune in their story of the birthday party described Mrs. Lynch as matriarchial. "She wore a festive lace collarette pinned at her breast with a cameo brooch, a pin worn by her mother. Her hair was described as soft white, knotted on top of her head in a fashion so old it is new again."
One of Ellen's sisters married Phillip Rogers, who owned a large farm to the south of the O'Leary farm, giving the name of Rogers Park to that part of Chicago. Another interesting story could be told in which the Rogers family would play an important role.
The Margarita Club, located at 1564 Oak Avenue, was named by Father H. P. Smythe in honor of Margaret O'Leary, mother of Ellen O'Leary Lynch. A brother, David O'Leary, was one of Evanston's first postmasters. David studied for the priesthood and for a time was one of the pastors at St. Mary's Catholic Church. At the time of his death he was a professor at the University of Notre Dame, South Bend, Indiana.
Evanston's Yesterdays by Clyde D. Foster
Evanston Historical Society, Evanston, 1956
Hello - I appreciate your making the Chicago info you have on your website available. I wonder if you would be interested in a note on the O'Leary family. I have a copy of Evanston's Yesterdays inscribed by Clyde Foster to my Grandmother Alice Touhy McKinley, but there is an error in the info he has on the O'Leary family. I have seen the same error in news articles. It was not Ellen O'Leary Lynch's sister who married Philip Rogers, but Ellen's Aunt. Mary Masterson Rogers (wife of Philip Rogers) and Margaret Masterson O'Leary (wife of John O'Leary) were sisters. David O'Leary in the article had the middle name of Philip after his Uncle by marriage.
I know this because of family papers I have. Mary Masterson and Philip Rogers were my Great Great Grandparents. Here's a link to some pictures of these folks:
http://freepages.genealogy.rootsweb.com/~mckinley/rogers_touhy.htm
Hope you find this of some interest. Regards, Maryl
Email, 2 May 2001